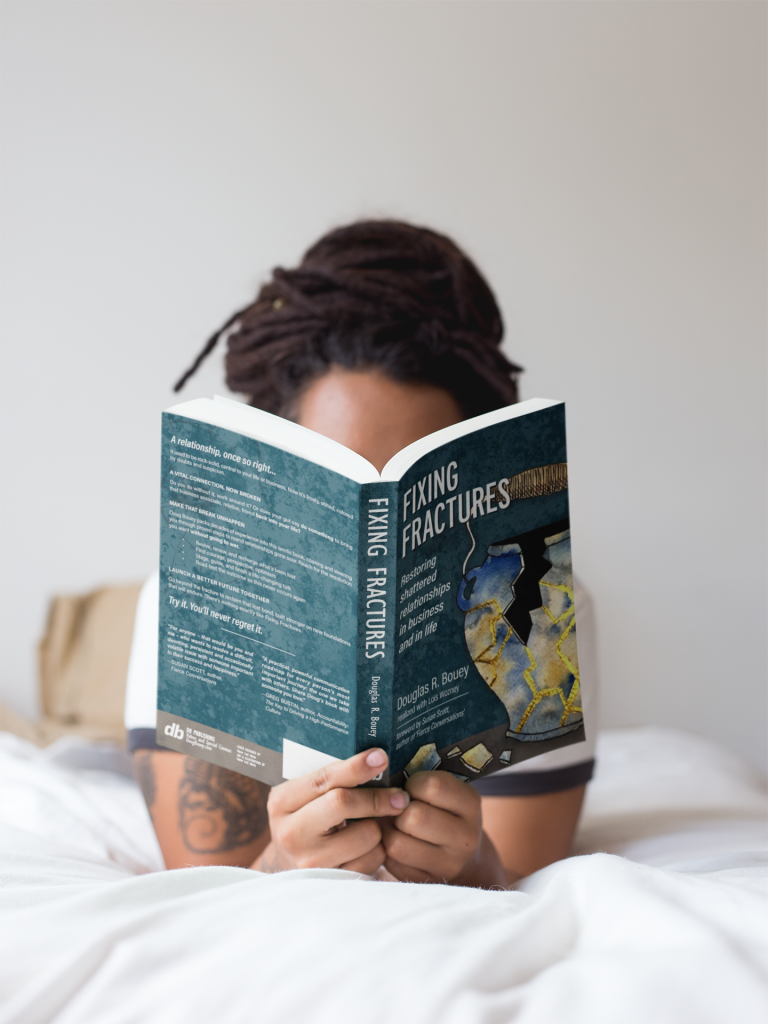 "This book is for anyone—that would be you and me—who wants to resolve a difficult, daunting, persistent and occasionally volatile issue with someone important to their success and happiness."
"A practical, powerful communication roadmap for every person's most important journey: the one we take with others. Share Doug's book with someone you love."
Fixing Fractures the Book
The must-have book on restoring shattered relationships — in business and in life
The Break
Something once so right – You had everything you wanted with another person… ease, flowing collaboration, fun, creativity. The relationship was core to your fortunes, it enabled longer reach, more dynamism, deeper satisfaction. Then, a catastrophic break. Something happened and the vessel of your relationship lay shattered before your unbelieving eyes. You began to ruminate; on a roller-coaster of emotions, you felt regret and remorse, anger with the other person, nursed fantasies of revenge, longed for restoration, grieved over the loss.
The Recovery
A Courageous Journey – You finally stumbled upon a way forward… this book. With it, you marshalled your courage. You prepared for, then bravely initiated a long and searching talk of increasing revelation and depth, and were led inevitably to the promise of restoration.
The Outcome
A Joyful Completion – Now you have a much stronger, more resilient connection with this person that's been tested against potential failure. It beckons you both onward to a broader realm of co-creation, friendliness and fun. You've built a platform on which further partnership can flourish.
The Resource
Fixing Fractures was formulated by years of bringing fragmented people back together. Its approach pairs the Resolution Protocol – a proven, step-wise process for renewal, with the Relationship Mindset – a productive way of regarding difference and getting along. The context for taking fulfilling action and achieve resolution is fully laid out in this step-by-step handbook that is easy to read, fun and probing at the same time.
Douglas Bouey has practised the art of building executive solidarity for three decades, and with Fixing Fractures, brings the fruits of long mentorship and experience to you.  There's nothing quite like Fixing Fractures.